If You Have the Cash, How Much Should You Really Put Down?
Posted by Jordan Matin on Tuesday, May 4, 2021 at 9:49 AM
By Jordan Matin / May 4, 2021
Comment
Cash is definitely king in this seller's market. If you don't have cash, chances are your offer will get shoved to the bottom of the pile. Cash is talking these days and for folks that are barely squeaking by or have little to no down payment, it's getting harder and harder for them to actually find a home and have their offer accepted. But what if you have all the cash in the world but not necessarily full cash to buy the home outright? Should you put as much down as possible? Should you stick with the 20%? If you have an influx and a good cash flow, how much should you really put down on a house?
It all depends on what type of loan you're going with. Do you have a conventional loan? At least 10% to 20% is a good chunk of change to put toward the house. If you're going with an FHA loan, chances are you're using this type alone because of the low 3.5% down payment. Other factors can determine what type of loans such as lower credit score, the longevity of credit history, or assets and liabilities.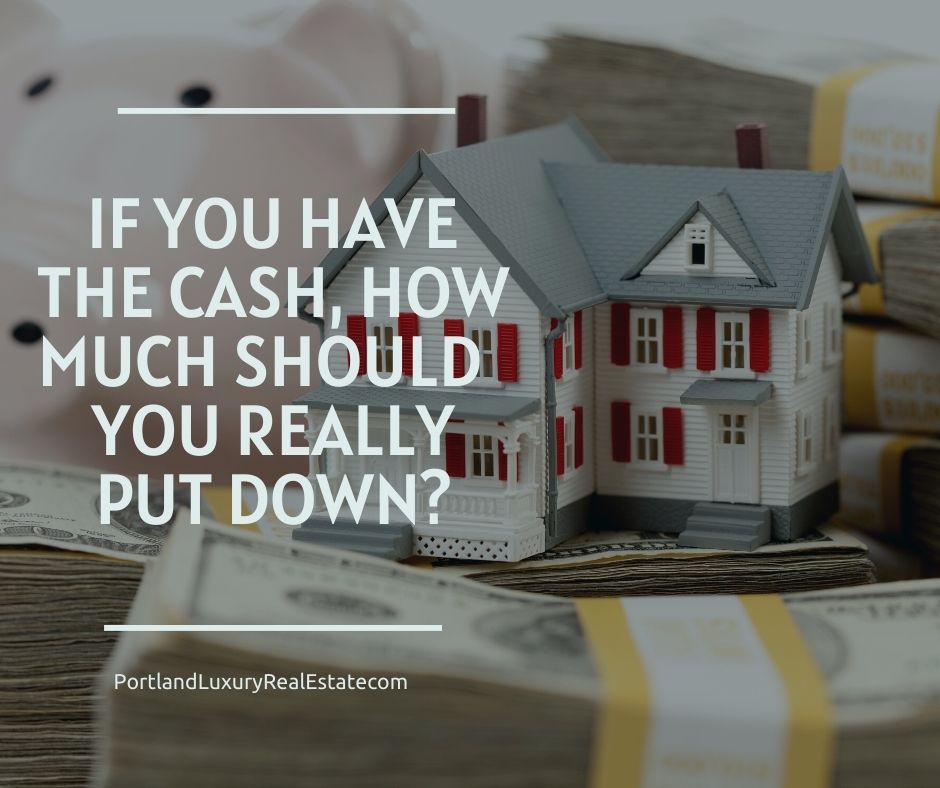 If you're not buying the entire house with all cash, chances are you'll get a conventional loan. Depending on your credit score, this is the most cost-effective and common type of home loan. Conventional loans typically require 20% down payment but what if you have more? Should you use as much cash as possible toward the purchase of a home? Should you reserve some and only put down the minimum 20%?
There are pros and cons of going be on a 20% down payment so are some points to consider when determining how much actually put down.
The 20% down payment.
Most banks require a 20% down payment to minimize the risk of suffering a financial loss if the borrower forecloses on the property and stopped making mortgage payments. A foreclosed home can represent a lot of money that the lender cannot let the community borrow and selling the home at a 20% discount will allow them to move it quickly, which is why the 20% down payment requirement is the most common.
A 20% down payment also lowers the loan to value ratio, the percentage of the home's value that's financed by the mortgage. If you put 20% down, you're technically borrowing or financing 80% of the purchase price giving you an 80% loan to value ratio. A higher loan to value ratio means a smaller down payment and a larger loan amount which translates to more risk for the lender.
The benefits of a 20% down payment
Smaller monthly payment.
No private mortgage insurance that will protect the lender in case of a default.
Lower interest rates.
Possibly reduced closing costs.
Easy to compensate for a lower credit score.
More flexibility if you need to sell your home in the near future.
Faster loan payoff.
Disadvantages to a 20% down payment or more.
This may empty out your emergency fund. You may want some liquid cash to cover incidentals and emergency issues or updates to the house once you move in.
The recovery might take a while. It typically takes a long time to save up a down payment and you may need extra time to save that amount again simply for peace of mind. Keeping a little liquid cash is a little more security.
Opportunity cost. With interest rates extremely low and the potential to deduct that interest on your annual tax return could be better off use making a smaller down payment and investing the rest into a quicker payoff.
It really comes down to personal preference and the future of your finances. If you can make a larger down payment, your offer will look that much more attractive to sellers. However, if you feel that that will absolutely during the bank, it may be best to leave some cash available to you for future reserves or emergencies. Every single borrower and homebuyer is different and their needs and future investments are different. We really want to help you make an informed decision on what's best for you and your family by weighing all the options.
Contact Matin Real Estate Group at any time to start searching Portland real estate. We'd love to help you get the home you really want!
More Tips: